Lionel Messi in full flow is one of the most exhilarating sights in football and a threat that puts defences on red alert, but the Barcelona talisman has become just as dangerous from dead ball situations too.
With a perfectly-placed dipping free kick from 23 metres out on Sunday, Messi beat Atletico Madrid's wall and towering goalkeeper Jan Oblak to earn Barcelona a vital 1-0 win over their La Liga title rivals at Camp Nou.
It was a sensational effort which leaves the unbeaten Catalans eight points clear at the top of the standings.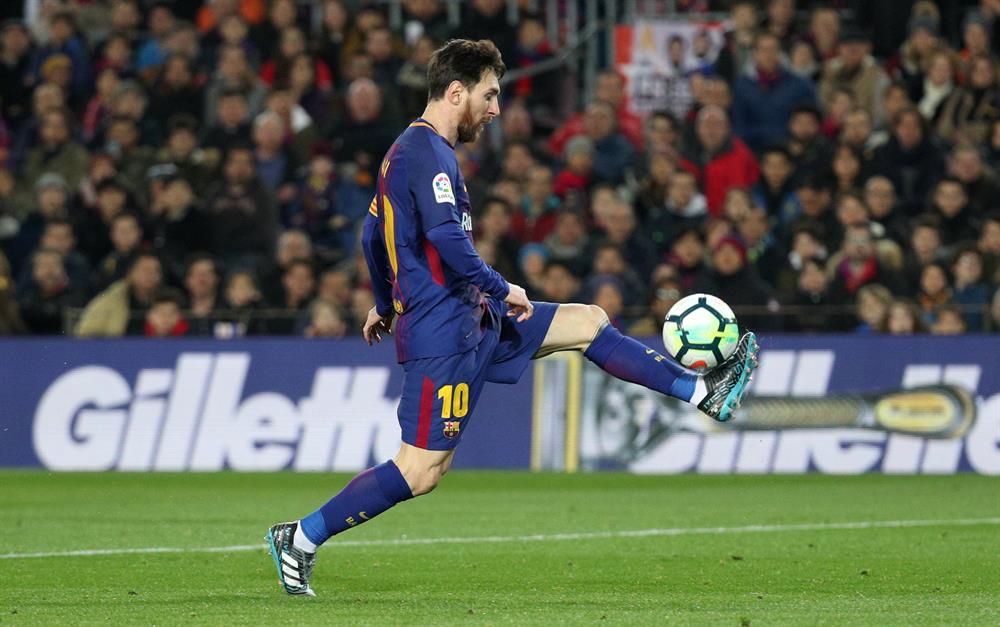 Ns News Online Desk: Oblak got his fingertips to Messi's strike but its power made it impossible to keep out, with the goal the Argentine's career 600th for club and country. It was also the third consecutive game Messi has scored a free kick, exhibiting three different styles. Against Girona on Feb. 24, the 30-year-old struck a low effort underneath the wall, catching Barcelona's derby rivals by surprise during a 6-1 win.
On Thursday, in the 1-1 draw at Las Palmas, Messi smashed a rising effort from the edge of the box into the top corner, bypassing the wall and leaving goalkeeper Leandro Chichizola with no chance. His latest strike against Atletico was his fifth free kick goal in 2018 alone and no other player in Europe has scored as many this season. The No. 10 had previously scored a high of four free kicks in a calendar year in 2012.
In February last year against Athletic Bilbao, Messi broke Ronald Koeman's club record of 26 set-piece strikes. The forward now has 33 to his name for Barcelona, 24 of those coming in La Liga, and another six with Argentina. Messi has scored from a free kick in every year since 2008 and according to former Argentina fitness coach Fernando Signorini, in 2009 then-national team coach Diego Maradona offered him some advice which changed his style.
In an interview with Spanish television channel La Sexta, Signorini said Maradona saw Messi get frustrated after missing three free kicks in training and started walking away from the field. "Maradona hugged him and said 'You can't tell me that you, on your way to becoming one of the best players in history, are going back to the dressing room because of this nonsense?'
"Maradona told him 'Listen to me, when you hit the ball don't take your foot away so soon because if you do, she doesn't know what you want. You have teach her what you want and then she will understand,'" Signorini said. Nearly a decade on, Messi appears to have mastered the art completely.