Exclusive
Plyscraper city: Tokyo to build 350m tower made of wood
 Ns News Online Desk: A skyscraper set to be built in Tokyo will become the world's tallest to be made of wood. The Japanese wood products company Sumitomo Forestry Co is proposing to build a 350 metre (1,148ft), 70-floor tower to commemorate its 350th anniversary in 2041. Japan's government has long advertised the advantages of wooden buildings, and in 2010 passed a law requiring it be used for all public buildings of three stories or fewer.
Sumitomo Forestry said the new building, known as the W350 Project, was an example of "urban development that is kind for humans", with more high-rise architecture made of wood and covered with greenery "making over cities as forests". The new building will be predominantly wooden, with just 10% steel. Its internal framework of columns, beams and braces – made of a hybrid of the two materials – will take account of Japan's high rate of seismic activity. The Tokyo-based architecture firm Nikken Sekkei contributed to the design.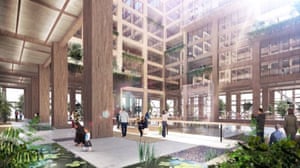 The interior structure, with 455,000 sq m of floor space, will be made entirely of wood. Renderings show light-filled apartments, offices and shops.
Balconies on all four sides of the building's exterior will facilitate the spread of greenery from the ground to the top floors, contributing to urban biodiversity. It is estimated that it will take 185,000 cubic meters of wood to complete the entire structure.