Disaster
Thousands stranded without electricity in Swiss ski resort of Zermatt
NSNEWS ONLINE DESK: About 13,000 holidaymakers are trapped in the upmarket Swiss ski resort of Zermatt, unable to leave because of heavy recent snowfall and an exceptional risk of avalanches, authorities have said.
"Arrivals and departures are to and from Zermatt are not possible at the moment," the resort said on its website. "All hiking paths and cable cars remain closed – please follow instructions. We kindly ask you to stay at home."
A spokeswoman for the well-known winter sports resort near the Matterhorn mountain, Janine Imesch, said the precautions were sensible and there was no immediate risk to "around 13,000 tourists" who were stuck there, approaching Zermatt's maximum capacity.
Imesch said electricity in the village had now been restored after an earlier power cut, although the resort's website continued to warn of "a power breakdown all over Zermatt". A further update is expected at 7pm local time.
The access road to the mountain village, which has a resident population of about 5,500, has been closed since Monday morning because of the extreme avalanche risk and trains have been unable to reach the station since 5.30pm on Monday, Imesch told AFP.
"No one can go skiing or hiking, but it's quiet, a little bit romantic," she insisted. "Everything is fine. There is no panic." Surveillance flights are being carried out in an effort to determine how long the travel ban might last.
The avalanche risk around Zermatt and several other resorts, including Saas-Fee in the south-western Valais region, was raised to its maximum level of five on Monday night, the region's president, Romy Biner-Hauser, said.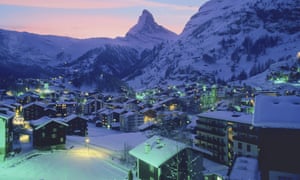 Biner-Hauser told the local newspaper Le Nouvelliste that some residents had been warned to keep their window shutters closed and that while no evacuation had yet been ordered, the situation "is being monitored every half hour and if things change we will take the necessary measures".
A mild föhn wind has brought unseasonably high temperatures to lowland Switzerland, but areas above 1,400m altitude have seen more than a metre of snowfall in recent days, the Swiss broadcaster SRF said, tweeting pictures, with more forecast.
The Swiss federal institute for forest, snow and landscape research, WSL, warned on Monday night that fresh snowfall coming on top of quantities of old snow that had fallen over the Christmas and new year holiday period could provoke "numerous large and, in many cases, very large natural avalanches".
It said such avalanches could reach "an exceptionally long way" and that exposed buildings and transport routes were endangered. "Extensive safety measures are to be maintained" particularly early in the day, it advised, although avalanche activity should decrease later.