Disaster
Record-breaking big freeze grips much of North America
NSNEWS ONLINE DESK: Bone-chilling cold gripped the middle of the US as 2018 began on Monday, breaking a low temperature record, icing some New Year's celebrations and leading to at least two deaths attributed to exposure to the elements.
The National Weather Service issued wind chill advisories covering a vast area from south Texas all the way to Canada and from Montana and Wyoming in the west through New England to the northern tip of Maine.
Dangerously low temperatures enveloped eight mid west states including parts of Kansas, Missouri, Illinois and Nebraska along with nearly all of Iowa, Minnesota, South Dakota and North Dakota.
The weather service said a temperature of minus 26C (minus 15F) was recorded in Omaha before midnight on Sunday, breaking a record low dating back to 1884, and the temperature was still dropping early on New Year's Day. That reading did not include the wind chill effect. Last week, Omaha officials cited the forecast in postponing the 18th annual New Year's Eve Fireworks Spectacular that usually draws about 30,000 people.
It was even colder in Des Moines early on Monday at minus 29C (minus 20F) and wind chill dipping to minus 35C (minus 31F). Des Moines city officials had closed a downtown outdoor ice skating plaza and said it would not reopen until the city emerged from sub-zero temperatures.
In New York, throngs of revellers braved the second-coldest New Year's Eve on record in New York to usher in 2018 as the glittering crystal ball dropped in Times Square.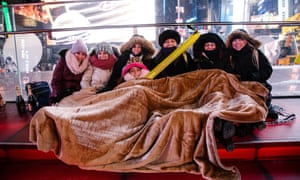 The temperature was minus 23C (minus 10F), the chilliest celebration since at least 1917, when it was only minus 17C (1F). Partygoers heeded warnings from authorities and wrapped up in extra layers, dancing and jogging in place to ward off the cold.
The wind chill dipped to minus 38C (minus 36F) in Duluth, Minnesota, a city known for its bitter cold winters. Steam rose up from Lake Superior as a ship moved through the harbor where ice was forming.
Bitterly cold temperatures also are spreading across the deep south, a region more accustomed to brief bursts of Arctic air than night after night below zero. Frozen pipes and dead car batteries were concerns from Louisiana to Georgia as overnight temperatures of minus 7C to minus 12C (10F-19F) were predicted across the region by Monday night.
An Indianapolis woman was in critical condition after she became confused in the snow and ice and turned her vehicle the wrong direction, driving 150ft on a retention pond before her vehicle fell through the ice, according to WISH TV. She managed to make an emergency call but the phone went dead when the ice cracked.
The Milwaukee County medical examiner's office said two bodies found on Sunday showed signs of hypothermia. They included a man in his 50s found on the ground in an alley and a 34-year-old man. Autopsies are being performed on both men.
Milwaukee's annual Polar Bear Plunge at Bradford Beach on Lake Michigan on Monday could be more dangerous than usual, a city official told the Milwaukee Journal-Sentinel. The wind chill was expected to be about minus 23C (minus 9F) by the time of the event at noon.
"You're going to get hypothermic," said the Milwaukee fire battalion chief, Erich Roden. "Everybody wants to do the polar plunge once in their life; it's a bucket list item. Unfortunately, it's something that can cause a lot of harm."
This story was amended on 2 January 2018 to correct some temperature conversions.